Why Harbourfront offered best 'philosophical alignment'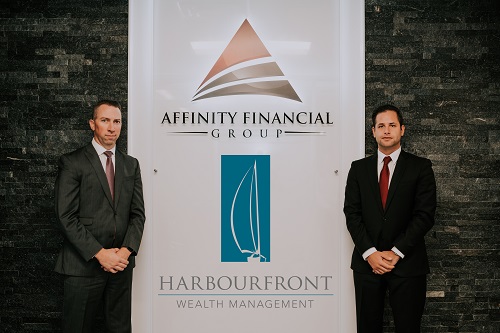 The financial planning process employed by Affinity Financial Group principals Thomas Cook and Graham Roy begins with a very simple question: why?
Understanding a client's motivations and desires enables this elite group of professionals to deliver empowering solutions aimed at a client's goal fulfilment.
This same decision-making process was employed when the team decided to join Vancouver-based Harbourfront Wealth Management last month. Affinity Financial Group, which already boasted in-house tax and investment planning specialists through their offices in Halifax and Lunenburg, Nova Scotia, were singularly focused on driving further value to clients.
Cook told WP the team set out to identify a business model which values true independence while limiting conflicts of interest. Roy added that integrity was paramount, in addition to a demonstrated commitment to holistic, comprehensive financial planning. The partners engaged in considerable due diligence over several months.
Harbourfront's value proposition of unrestricted choice, unbiased advice, strong financial planning ethic and vibrant entrepreneurial spirit was a natural fit. Affinity deemed that Harbourfront's technology platform would allow the team to generate more efficiencies, thereby dedicating more time and resources to client servicing and planning. Roy believes that having access to a robust PM platform positions the team for even greater efficiencies for both clients and advisors.
Cook said: "I take my fiduciary responsibilities seriously, so philosophical alignment with a dealer who has a serious focus on the best interests of clients, while being agile and nimble, was paramount."
Affinity has always sought to provide clients with transparency wherever product and fees apply. The team were early adopters to the fee-based environment having moved to the platform 10 years earlier.
"We needed access to innovative product solutions currently unavailable at mainstream dealers," said Roy. Being more than 10 years into a historical bull market only gave the client-centric team greater concern.
Harbourfront's sister company launched Canada's first multi-strategy, multi-provider private debt and private real estate pool. It is completely objective as it's entirely sub-advised through institutional relationships and will provide clients a consistent high yield, without the volatility of the bond or stock market. The firm's continued focus on providing retail clients with institutional, pension style investment opportunities resonated loudly with Affinity.
Harbourfront's structure allows advisors a stake in the business and is an approach they believe appeals to ambitious, forward-thinking professionals. It means advisors effectively own two businesses – their practice and Harbourfront - with the latter including annual dividend distributions.
Cook added: "It was important to join a boutique firm that is focused on attracting an elite group of advisors who desire to be at the forefront of the industry so their clients could benefit from a leading-edge offering."
Cook and Roy expressed no desire to rest in the comfort zone and believe that joining a forward-thinking firm will help elevate the team to the next level.
Cook stated: "For clients to truly prosper, our industry needs more change, more action and less talk. I believe Harbourfront empowers top advisors to accomplish those objectives. Unrestricted choice, unbiased advice, a financial planning ethic and a strong entrepreneurial spirit are the cornerstones to longevity and success in this business."